1. Trees for Elephant Corridors: 2018-2019
Trees for Elephant corridors was our first milestone of planting 1,15,100 saplings in villages situated at the foothills of Dalma Wildlife Sanctuary, East Singhbhum District, Jharkhand.
2. Trees for Forest and Wildlife: 2019-2020
We planted 4,52,600 saplings in villages situated at the foothills of Dalma Wildlife Sanctuary Jharkhand and in the villages on the fringes of Simlipal Tiger Reserve, Odisha and villages situated on the banks of river Ganga, Bihar.
3. Trees for Soil and Moisture Conservation: 2020-2021
We planted 11,58,000 saplings in the nearby villages of Dalma Wildlife Sanctuary, Jharkhand and in villages of Mayurbhanj district, Odisha.
4. Trees for Sustainable Livelihood: 2021-2022
We have planted 29,46,000 saplings in villages situated at the foothills of Dalma wildlife sanctuary Jharkhand and in the villages on the fringes of Simlipal Tiger Reserve, Odisha
5. Trees for Sustainable Livelihood: 2022-2023
In the villages inhabited by the Santhal and Ho communities in East Singhbhum district of Jharkhand we planted 10 lakh saplings.
6. Trees for Tiger Habitat: 2022-2023
We have planted 1 lakh saplings in the villages of Mayurbhanj district nearby the Simlipal Tiger Reserve of Odisha.
7. Trees for Carbon Neutrality & Nature Conservation: 2022-2023
We planted 1 lakh saplings in East Singbhum district of Jharkhand.
Path Forward
We have an additional inventory of 5 Lakh of saplings in the villages of purulia district, West Bengal
Since 2018, Aadivasi Welfare Foundation is creating a positive impact with afforestation, soil & moisture conservation, biodiversity preservation, and conservation with water body creation and rejuvenation projects in the states of Jharkhand, Bihar, and Odisha. Additionally, in the current year of 2023, we have plans to initiate further similar projects in West Bengal, Jharkhand, and Odisha.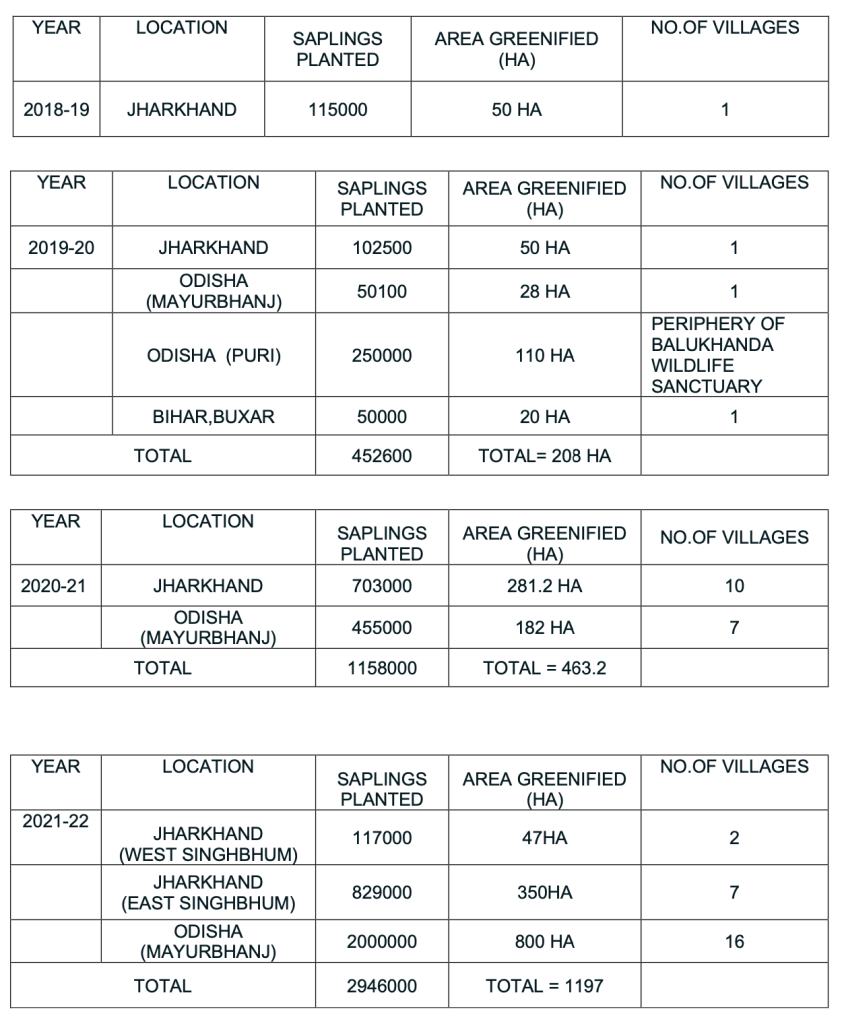 Our Well Researched
Community Based
Reforestation Intervention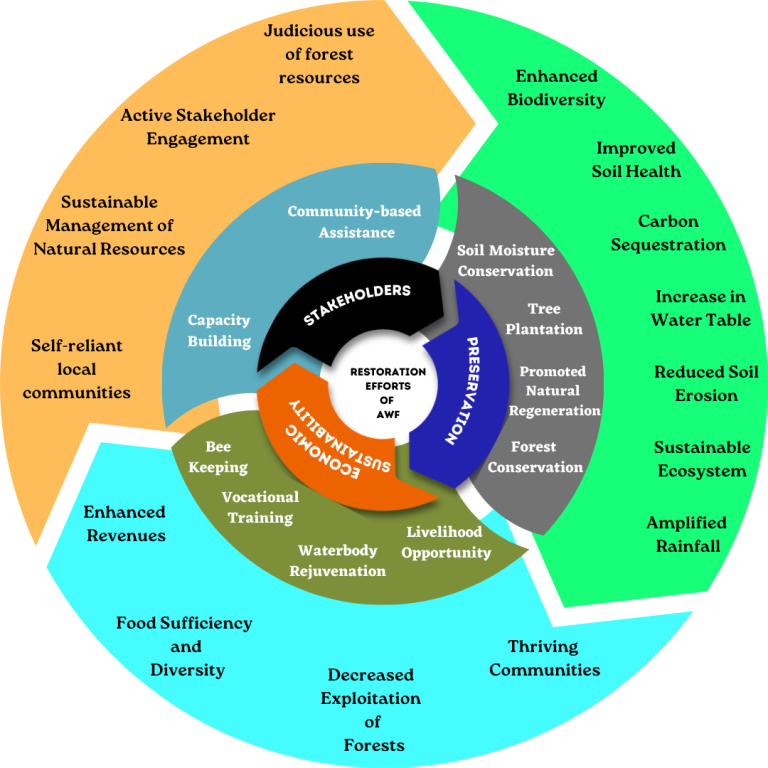 ZERO HUNGER- NO POVERTY- GENDER EQUALITY
The world population clock is ticking like a time bomb at 8 billion at present, India bagged the status of the most populous country in the World at 1,418,088,978 as of 26th. April 2023 based on Worldometer elaboration of the latest United Nations data. It seems almost impossible to eradicate hunger and poverty of this stupendous growth with its multiplicity. But it is possible with the right kind of people putting in the right kind of effort to curb the devastations foreboding the future.
We provide nature-based solutions which alleviate the socio-economic condition of the backward classes like the marginalized tribals of India. We plant fruit-bearing trees like Mango, Jamun, Drumstick, Papaya etc. along with trees, having an enormous wood value like Teak, Bhimal, Shal, and Indian birch. The nutritious benefits of fruit-bearing trees complement the economic worth of the other trees planted. Beneficiaries can also opt to sell the surplus harvest of the fruit-bearing trees. Malnutrition and poverty both can be addressed in this twin model.
Livelihood generation by planting trees and promotion of tribal handicrafts have reduced labour migration to cities to a large extent and we boast of inclusive growth for all.
We provide education and training to rural tribal communities committing ourselves to inclusion and gender parity. Tribal women are given various training to hone their inborn artistic talents of art and craft. We have our own tribal training workshops at Khuttadih, Jamshedpur and Bishalgarh, Tripura. We believe with the empowerment of these women they will have a better quality of life and would become confident to fight domestic violence and other social abuses.
Women are embodiments of Shakti, but they are abused and exploited in more ways than defined by any feminist agenda. We promote gender equality in our organization as well as in tribal communities. Water bodies created by us have immensely helped the tribal women in their daily chores and have improved their quality of life. They do not have to fetch water from distant places for their basic water needs and they can now utilize their leisure in learning new skills to uplift their economic condition.
Knowledge is power. And we intend to share this power with marginalized communities, where it is needed most. We encourage the dropouts to go back to school. It is always easier said than done. We are providing them with safe drinking water, solar power-based water pumps, renovation of building and infrastructure, and 10 functional toilets in the village and painting of walls in common places. Harda, in Madhya Pradesh is a model village of "send them back to school" and Adityapur in Jamshedpur are skill development centers for SC/ST children.
We have different professional courses designed for rural tribal women including fashion designing, with free certification by well-known and affiliated universities.
At the 26th Conference of Parties (COP) to the United Nations Framework Convention on Climate Change (UNFCC) the Honourable Prime Minister of India Shri Narendra Modi pledged that India would cut its emissions to net zero by 2070. We believe in our PM's vision and are actively into mass tree plantation in various states of India. Till date, we have planted 5.97 million trees, created 12 waterbodies, and maintained the quality of soil and water with moisture and soil conservation methods of trench cutting and preservation of water table in the states of Jharkhand, Bihar, Orissa, West Bengal, Madhya Pradesh, and Uttarakhand.
Presently we are addressing 1.(iv) of Schedule VII of CSR Activities of ensuring environmental sustainability, ecological balance, protection of flora and fauna, conservation of natural resources and maintaining quality of soil, air and water.
Inland capture fisheries and aquaculture contribute over 40% to the world's reported fish production from less than 0.01% of the total volume of water on Earth. We create fisheries in the ponds we create as their nutritional value and impact to maintain a healthy ecosystem are immense. Fisheries provide food to billions and livelihoods to millions of people worldwide.
To the individual, fisheries provide food and economic security, and empowerment. To society, fisheries are capacity building and to the environment it enhances aquatic food webs and strongly contributes to healthy ecosystems influencing nutrient cycles, modifying physical landscapes and biodiversity.
The volume of water in a pond of 50 feet x 50 feet x 10 feet is 4,94,708.68 liters. We distribute fish like Rohu, Mrigal, and Katla. At the maturity age of 1.5kg to 2 kg, each variety gives a selling price of INR 200 per kg to the farmers. Thus, fisheries generate resilient livelihoods for the beneficiaries.
According to bee experts at the Food and Agriculture Organization (FAO) of the United Nations, a third of the world's food production depends on bees. As one of the major pollinators' bees allow plants including many food crops to reproduce. Essentially our food supply depends on little bees.
Though the honey bees are best known for the honey they produce, their economic role in nature is to pollinate hundreds and thousands of flowering plants and assure the setting of seed or fruit.
We distribute man-made bee hives to farmers as a part of our environmental care initiative. In modern apiculture, different hives are built like horizontal hives, vertical hives etc. with different species of bees like Apis dorsata, Apis indica, Apis mellifera, etc.
We have initiated bee husbandry in Nachibera village of Madhya Pradesh.
The word "husbandry" is chosen purposely. It describes the nature of the relationship between man and bees as it used to be in olden times when man as the head of the family took care of his family, livestock and crops, and also his environment. Husbandry is management with care and responsibility.
We love doing green and good. It is not enough to "go green", we have to do green as well, as we do parenting, as we do our human relationships, with passion and patience.