Our project aims to reforest and rejuvenate degraded areas within and around the villages situated on the fringes of Simlipal Tiger Reserve, Odisha through the plantation of 50,000 to 1 lakh saplings and empowering tribal communities, particularly women, through vocational training and skill development to strengthen the local economy through sustainable agricultural practices and income diversification.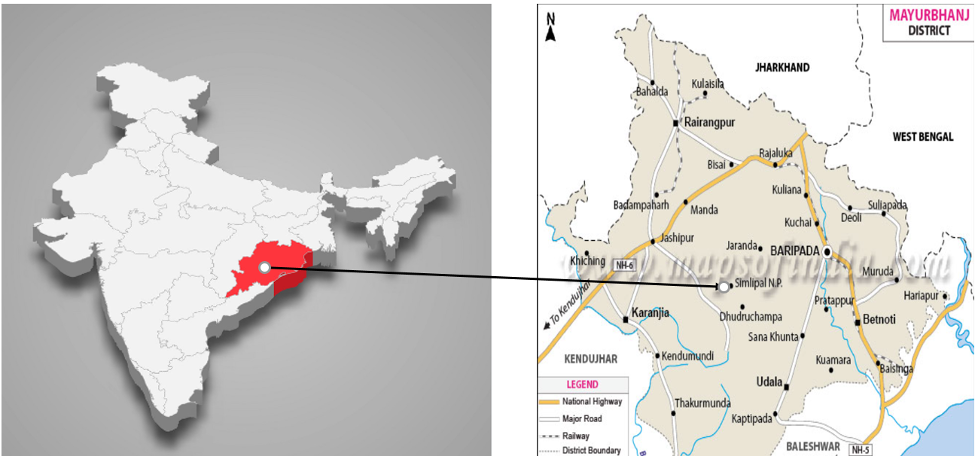 Location: State Odisha; fringes of Similipal Tiger Reserve in the community land of villages of Mayurbhanj district
Rationale for the Project:
Revitalizing the Simlipal Tiger Reserve Ecosystem: The Simlipal Tiger Reserve, home to the world's only habitat with melanistic tigers, has faced severe challenges due to prolonged dry periods and wildfires in recent years. These events have led to forest loss, endangering wildlife populations and plant species. Our project address these issues by restoring forest cover in settlements on the reserve's periphery and aiding in landscape recovery from wildfires. We have planted 1 lakh saplings under our reforestation initiative which aims to secure and enhance wildlife habitats while reducing crop degradation and human-wildlife conflict, thereby supporting the sensitive local agriculture-based economy. 
Fostering Employment Opportunities and Skill Development: The project creates direct employment opportunities, particularly for tribal communities, throughout the plantation process. This includes raising saplings, transporting them to the plantation site, site clearance, pit-digging, plantation, and field watering. The daily-wage employment benefits the communities, especially women, and helps foster sustainable livelihoods.
Promoting Vocational Training and Indigenous Crafts: To reduce migration from villages and empower tribal communities, the project offers vocational training and skill development programs. Special emphasis is placed on preserving and promoting tribal handicrafts, aligning with the national vision of "Vocal for Local." This training not only enhances livelihood opportunities but also preserves cultural heritage and traditional crafts.
Enabling Sustainable Income Generation: The construction of ponds for fishery production is an integral part of the project. Locals can benefit from additional income generated through these ponds. The initial costs of constructing the ponds and other essential elements for fishery production are included in the project's budget. This income source contributes to achieving a sustainable lifestyle for the local communities.
Selection of Local Tree Species: 
Thorough research and consultation with environmental experts and community members is done for the selection of tree species. Only local and naturalized species are chosen, considering the specific needs of the area. The selected species, such as Teak (Tectona grandis), Shisam (Dalbergia sissoo), Karanj (Pongamia pinnata), Semal (Bombax ceiba), Mahua (Madhuca longifolia), Neem (Azadirachta indica), Jackfruit (Artocarpus heterophyllus), Mango (Mangifera indica),  Ear-leaf acacia (Acacia auriculiformis), Jamun (Syzygium cumin) are suited to the local ecosystem and contribute to the project's objectives effectively.